Born from demand and built on experience, our swimming pools have been constructed for our clients with 100% success and since the birth of our Dordogne based company in 2001, 80% of our new clients have been from recommendations.
As a qualified Civil Engineer with over 30 years in the construction industry and a Member of the Institute of Swimming Pool Engineers (M.I.S.P.E), my experience means that I can deliver a superior product that like for like have never been beaten in quality or price. There is no guess work or expensive over design. We are a family company whose service is personal and hands on from conception to finish.
From the first pool over, 30 years ago, until recent years our pools have been traditional steel reinforced concrete (SRC) and lined in fibreglass (GRP) with a none osmosis, jelcote finish. Clients loved the fluidity and flexibility that freed their minds to design pools limited only by their imagination, a place where kit pools and flat plastic liners could not go due to their self limitation.
AquaPierre has been our stone-finished generation of pools since 2009 and we have been using PebbleTec® pool finishing for which we hold a license for application in France.
PebbleTec® has proved its reliability for decades and is a durable lining product of sustainably resourced quartz and stone that gives a beautiful watertight finish.
Being a fluid and flexible application, it allows for a pool design limited only by one's imagination and delivers a pool that is virtually monolithic.
Pool lining and refurbishment
We now offer a service of PebbleTec® application to new pools, (including self-builds) and pool refurbishment. Naturally we would not undertake an application to any pool, therefore we would need to ensure that any structure is of the standard and quality to receive a PebbleTec® lining.
We have successfully completed self-build projects by providing design to the client and inspecting works at critical stages, resulting in a superbly finished pool to our standards and substantial savings to our client.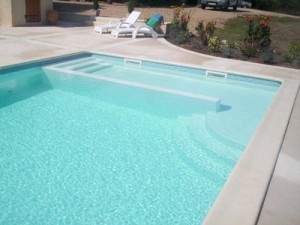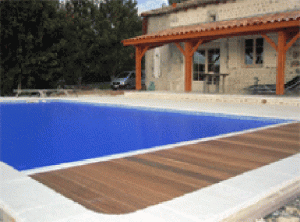 Case Study
The clients brief was a swimming pool of 7.5 m x 4 m, a level bottom at 1.5 m deep with an approximate finished height as near as the structural sub strata would permit to threshold l level with the rear door of their bungalow.  The pool was to have a decked area of 5 m x 4 m of a construction using maintenance-free concrete posts and support with composite decking. The garden had an extreme slope and the pool had to be strong enough to be free-standing and inflexible so as to receive an AquaPierre pebble finish to the interior…
Let's Work Together
TELL ME MORE ABOUT YOUR PROJECT
If you would like to know more information about swimming pool construction in Dordogne,
or have any questions, please complete the short form below.